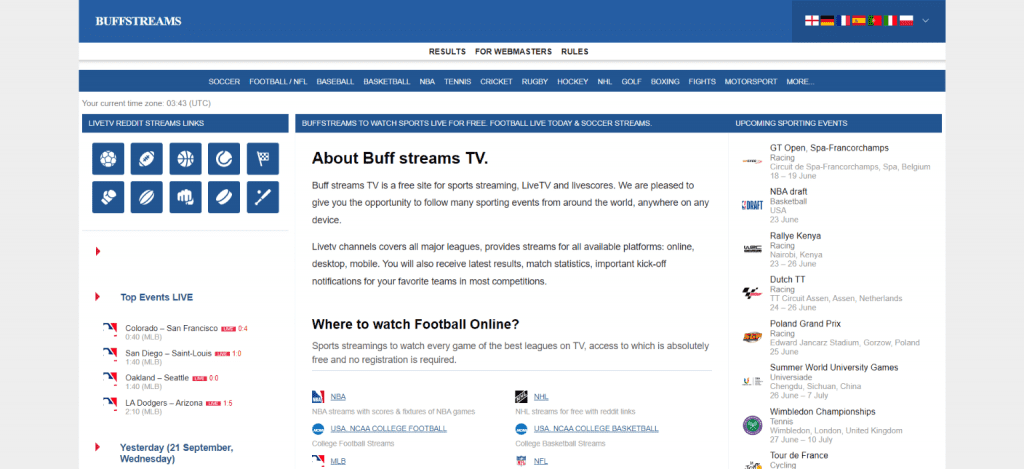 Buffstreamz Sports Streaming Website
Buffstreamz Live Links
https://sportshub.stream/ – only working link
Buffstreamz is an up-and-coming website that is becoming a major player in free sports streaming. They provide a large variety of live sports broadcasts, including soccer, NFL, baseball, NBA, tennis, cricket, rugby, hockey, NHL, golf, boxing, MMA, motorsports, and more. They boast that their link selections to stream hosts are high-quality, and people who use this site shouldn't worry about buffering or signal loss. The only downside is that they do not offer sporting events that have been previously broadcasted. However, that's a minor complaint compared to everything else they offer. If you're looking for a sports streaming site that is a great alternative to StreamEast, try out Buffstreamz.
We used the Whois Domain Tools to search for general domain information. Buffstreamz uses SportsHub.stream as their domain name. This is probably due to them losing their main domain to legal issues. Usually when a domain is lost, the website files are transferred over to a new domain. This seems the case for Buffstreamz.
Buffstreams Domain Profile
Domain Name: SportsHub.stream
Domain Registrar: Godaddy
Domain Age: 601 days old (as of 9/22/2022)
Domain Creation Date: 2021-01-28
Domain Name Servers: Cloudfare
The registrant's name is all redacted using GoDaddy privacy.
Buffstreamz Site Layout and Navigation
Buffstreams offers a great navigation experience that makes it easy for users to find the sporting event they are looking for. The homepage features a navigation menu at the top of the homepage that lists each sports category. One unique feature of the site is the "Results" section. The results section will show all of the scores for a specific date. The default setting shows the results for the present day, and all the scores are organized by each individual sport. Once a user clicks on the sports category, they will be able to see all the current sporting events being broadcasted. All currently or soon-to-be broadcasted streams are listed under the "Top Matches Today". Simply click on the sporting event you want to watch, and you will see a list of links to servers streaming the event. Each streaming site will show the quality of the stream by displaying a percentage (out of 100). 100 is the highest, and 0 is the lowest. Click on the host that has a higher percentage stream quality.
The site has a number of unique features, including live scores for each game and the current lineup on both teams. It is up-to-date with all league games, so you can be assured that your fantasy draft day won't suffer from dated information!
Is Buffstreamz Safe?
One concern is their privacy policy. According to their policy Buffstreamz collects different types of information about you to help personalize their offerings for their app users. It also helps to make improvements and add features to their app. The main thing is that they collect information to help advertisers cater better ads to show to you on the app.
Is Buffstreamz Legal?
Yes. Buffstreamz does not host live streams but only categorizes and displays links to other sites that stream sporting events.
Buzzstreamz NFL
NFL games are notoriously difficult to stream for free. Either the streams are terrible, not working, or are not streaming the game you want to watch. NFL Gamepass costs an arm and a leg, so it's unaffordable for most of us. The question is: do the NFL streams work on the Buffstreamz site?
We tried one of the streaming links for Thursday Night Football – Bills Vs. Rams and noted that 2 out of the 10 streams worked. The stream quality was around 720p, not great, but I can't complain when it's free.
Buffstreamz App
Buffstreams TV is an app that allows you to watch live sports matches on your device. You can enjoy all sorts of different types, such as football (American), cricket and baseball among others- for free! This means no cable or satellite subscriptions are needed; just download the application from Google Play Store today and get ready to cheer alongside millions around the world when any match starts up in real-time with our easy interface. Mind you, this app is only available for Android.
The BuffStreams TV app has been designed to make it easier than ever for sports fans around the world. It's available on Google Play Store and can be downloaded by anyone with an Android device! In addition, this user-friendly program offers a wide range of features, including being able to watch live games or shows from different genres such as movies & entertainment; news coverage covering all major events happening today.
Follow the instructions below to install Buffstream TV APK on your Android device. This app has already been tested and is available for download from our site!
To download Buffstreams TV APK, first, go to the bottom of this page and click "Download." The app will be downloaded on your phone. Next, you need to activate unknown sources from settings to allow access to your Android device. This can usually be done by selecting General Setting.
Buffstreamz Alternatives
The best alternative to Buffstreamz is StreamEast. I'd say this is the most reliable alternative to stream live sports. MLB66 is another great site, but only broadcasts baseball streams.
NBA streams in Taiwan – Review.com.tw

Daily Contributor is a collective of writers that love entertainment, video games, sports, and nerding out.