Used car prices are up. According to JP Morgan, average used car prices increased 42.5% in September of 2022. Affordable cars are insanely unaffordable due to inflation and a downturn in the US economy. In most of the US, reliable transportation is a must. For most living in the suburbs, transporting children to school, buying groceries, and commuting to work all depend on having a car. We've compiled a list of the best websites for purchasing a used car online.
Criteria for selecting the best-used car websites
We only recommend websites that meet the following criteria: average reviews, car pricing, financing, customer service, and warranties.
Average rating – we review the average rating for the past 12 months from trusted review sites such as the Better Business Bureau.
Car pricing – we compare the car prices between popular sites to see which site offers the lowest prices.
Financing – financing is important, and we will only recommend sites that provide financing.
Customer service – responsive customer service is a must. We will check to see how fast customer service responds to our inquiries.
Warranty – Most reputable online used car sites will provide a warranty.
Our Top 5 Best Sites for Used Cars
1. CarMax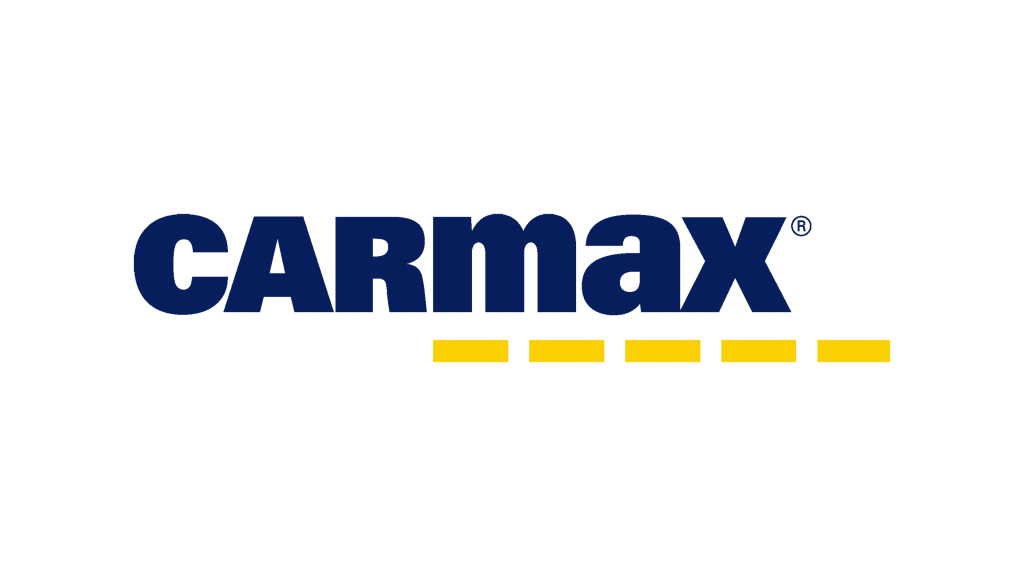 CarMax has made purchasing a used car less stressful by performing all the due diligence for you before you browse their large selection.
What makes them different?
CarMax states that they have a careful vetting process and perform a 125+ detailed inspection before adding the car to their listing. Any cars that need repairs or replacements will be handled by their technicians before listed. All used cars are fixed up, including cosmetic damage, such as scratches and dents, and a final quality inspection is given before being approved to be sold.
Stress-free buying
One unique feature of CarMax is its 24-hour take-home policy. Not all cars qualify for this, and there are some qualifications the buyer will need to provide to test drive the car. There is a 150-mile limit for the test drive, and the buyer has 24 hours to return the car.
No haggling over prices
Commissions for sales associates aren't determined by price markups and haggling. Sales associates receive a fixed price; therefore, the price of the car is fair, and there's less haggling over prices, which means less stress for the buyer.
CarMax Return Policy
CarMax offers a 30-day (or 1500 miles) return if the purchaser does not like their car. The car obviously has to be in the same condition it was in when purchased. Refunds are in full and can be expected within 2 weeks after filling out the paperwork. For buyers who financed their car, they will need to make sure to pay back the difference if their upside down on the return.
Warranty Policy
CarMax offers a limited warranty of 90 days and/or 4000 miles. The warranty will cover any repairs due to mechanical, electrical, or part failures. The limited warranty does not cover cosmetic damage, wear and tear on brake pads, oil changes, and repairs to after-market parts. There is an extended warranty that can be purchased called 'Max Care.' Plans will be determined by the type of coverage, deductible, and mileage.
1. Car Gurus

CarGurus is a US-based company located in Cambridge, MA. They provide a simple interface that allows car shoppers to compare listings based off of personal search criteria. The website was founded in 2006 and the current CEO is Langley Steinert.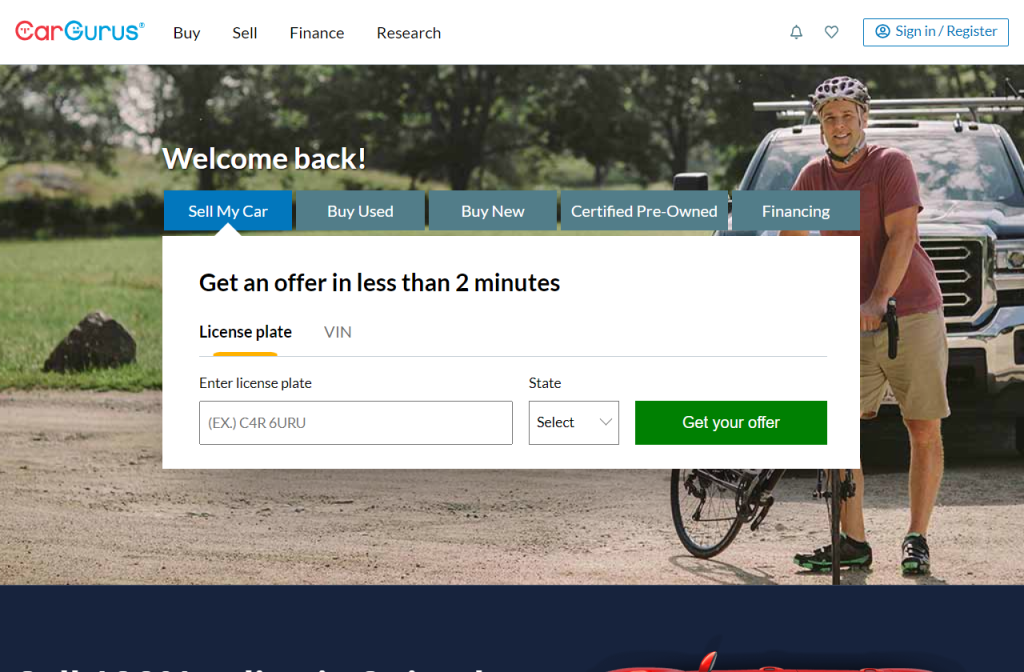 Navigation
There are 5 categories to choose from: Sell My Car, Buy Used, Buy New, Certified Pre-Owned, and Financing. We will be focusing just on the 'Buy Used' section.
Search and Selection
The search menu is just like every other site. Buyers can choose from make, model, price, zip code, and by body style. For our research, we will search for a 2016 Toyota Corolla with less than 40,000 miles on the odometer, located within a 20-mile radius of 98108.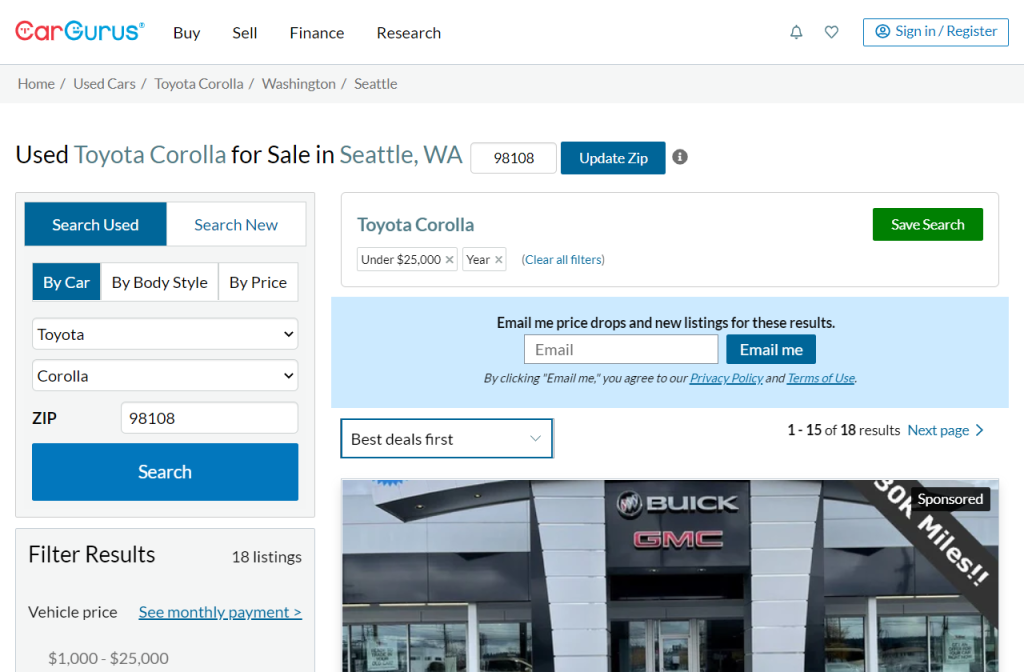 18 results came back for our search. Searches can be sorted with a drop-down menu: best deals first, worst deals first, lowest price first, highest price first, lowest mileage first, highest mileage first, newest first, oldest first, newest listing first, and oldest listing first.
Each listing shows the car's price, location, and mileage. One unique feature is the rating that is given for each car. CarGurus will show if the used car is a good deal and whether the price is below or above the market price. The price is $18,305 for this 2016 Toyota Corolla – Special Edition (SE). We checked the Kelly Blue Book Value of this exact model and specs, and the price was within $14918 – $15,385 for a private party seller. A 20% markup over the dealership price.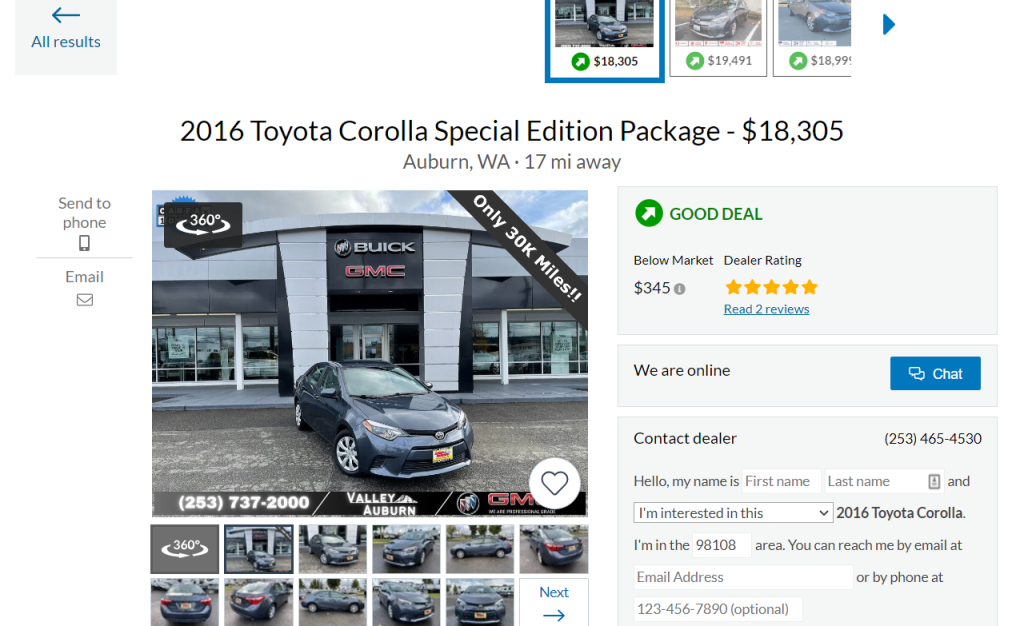 Clicking on a specific car will redirect the buyer to the listing. The listing will show the dealership's information, car features, financing options, and an overview of the car. A unique feature of CarGurus is that they will show how long the listing has been up and if there were any price decreases as well as the price history of the car. The car history will show whether the car has a clean title, any reported accidents, and previous owners.
Dealer reviews are shown at the bottom of the page. A finance calculator is also shown at the bottom.
There are a few ways to contact the dealer from the listing page: email, form submission, or chat. We clicked on the chat function and were immediately connected with an agent.
Financing
There's a financing page with a finance calculator, and a form submit. CarGurus does not directly offer car financing but can help connect you with one of its lending partners.
3. Shift

Shift is a similar website to CarGurus. Their mission is to make car shopping easier, without hassle, and from a transparent seller.
How Shift Works
Shift focuses on transparency and will take high-resolution photos and a CarFax report. Shift will do a 150+ point inspection. If the car doesn't pass the inspection, then they won't sell it. All inspections are reviewed by highly-qualified Shift technicians. All prices are set and competitive. This allows the buyer to get the best price without having to haggle. Shift also has a delivery service. Shift does charge a service fee to purchase a used car through their site.
Financing
Financing is straightforward. Fill out the form, and the buyer will be connected to lenders that fit the buyer's qualifications. Buyers will be pre-qualified without any negative effects to the inquirer's credit score. One great function of Shift's financing services is that the website shows cars within the lendee's budget. Some reputable lenders that Shift works with are Chase, USbank, ally, TDBank, Bank of America, and Westlake Financial.
Shift's Buying Experience
Shift has a pleasing homepage. The main navigation displays: shop cars, sell or trade, financing, car finder. The secondary navigation shows: sales & offers, makes, electric/hybrid, luxury, sedan, coupe, SUV, trucks, vans, convertibles, and hatchbacks. There's also a search bar that is next to the main navigation. Searching for a Toyota Corolla came back with 2 results. We found a 2021 Toyota Corolla LE for $17,850 with 43,000 miles.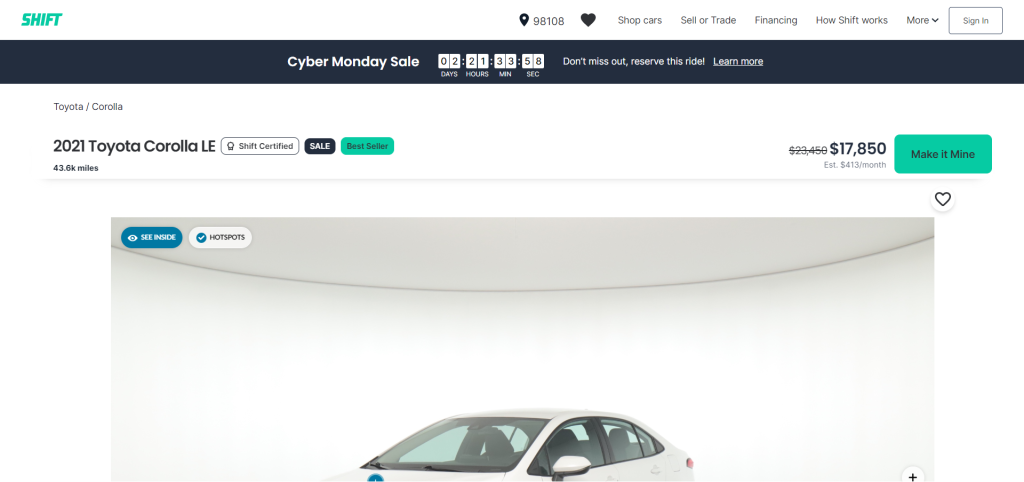 The listing shows all the car details, including MPG, car color, VIN #, and drive-type – all required information. The vehicle history is shown at the bottom of the page, including the number of past owners and accidents reported.
Shift's Return Policy
There's a 7-day and/or 200-mile return policy and a limited 30-day warranty.

Daily Contributor is a collective of writers that love entertainment, video games, sports, and nerding out.