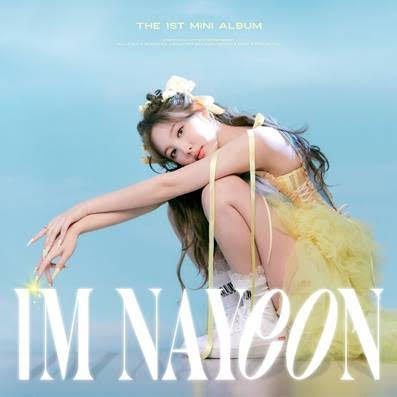 LOS ANGELES, CA (July 5th, 2022) – Nayeon, one of the members of the global K-Pop powerhouse TWICE, made Billboard chart history this past week, becoming the first K-Pop soloist to ever debut in the top 10 on the Billboard 200 Album Chart. Her debut solo EP IM NAYEON, reached #7 on the coveted chart, and took the top spot on the Billboard World Albums Chart and Top Album Sales Chart, making her the first K-Pop solo artist to have a #1 debut. IM NAYEON also boasts the biggest first-week sales for a K-Pop/Korean soloist in Billboard 200 history.
The EP marks Nayeon's first solo venture since her TWICE debut in October 2015, and she is the first member of TWICE to release a solo EP. IM NAYEON, which cleverly means both "I'm Nayeon" and "Lim Nayeon," her full name to highlight her reintroduction as a solo artist, has garnered wide critical praise since its June 24th release. Elle called the EP's first single "POP!" a "bubbly and brassy bop, bursting with an enticingly joyful energy," while Rolling Stone compared the track to "…classic Twice, from the fun bubblegum beat to the addictive melody and cute lyrics."
MTV's Fresh Out Live aired Nayeon's solo U.S. broadcast debut performance of the "POP!" capturing the track's exhilarating and addictive energy, as well as Nayeon's undeniable charm and her unique, fresh energy. Watch the performance HERE.
Through this EP, Nayeon – in conjunction with prominent hit makers such as Little Mix's Jade Thirlwall, The Stereotypes, Sim Eun-jee, earattack, and Shift K3Y – uses the skills she's honed over the last seven years with TWICE to create her own sound. IM NAYEON also features Felix of Stray Kids and Wonstein, which marks the first time TWICE and its members have featured other artists on an album. Further, the EPfeatures two tracks written by Nayeon, which further exemplifies her musicality: "ALL OR NOTHING" and "LOVE COUNTDOWN (Feat. Wonstein)."
In addition to "POP!," which features collaborations with KENZIE, London Noise, and Lee Seu Ran, the seven-track mini album includes "NO PROBLEM (Feat. Felix of Stray Kids)," a powerful and refreshing love song; "LOVE COUNTDOWN (Feat. Wonstein)," which explores the moment just before you confess your feelings for someone through a bossa nova-inspired rhythm; "CANDYFLOSS," a sweet pop song comparing lips to cotton candy and fluttery emotions to early summer; "ALL OR NOTHING," which expresses Nayeon's complicated feelings and worries as a young adult; "HAPPY BIRTHDAY TO YOU," an R&B track with a soulful, Lo-Fi rhythm and bright, celebratory vocals; and "THE SUNSET IS PRETTY," a dreamy song about bitter love that is as beautiful as the sunset, but quickly disappears.
This solo release comes on the heels of what has already been a momentous 2022 for Nayeon with TWICE. Last month, TWICE made their in-studio U.S. broadcast debut on The Late Show with Stephen Colbert; the group performed their Billboard Hot 100 hit, "The Feels." They also performed back-to-back, sold-out performances at Los Angeles' Banc of California Stadium – encore performances of their sold-out arena tour, 4TH WORLD TOUR Ⅲ. These performances were a major milestone for the group, as they made TWICE the first female K-Pop group to play a North American stadium.
IM NAYEON is out now via all digital and streaming platforms. Get the full album HERE.
About TWICE:
Formed under K-pop powerhouse JYP Entertainment in 2015, TWICE is one of the best-selling K-pop girl groups of all time regarding physical album sales. The group first rose to prominence with their debut title song "Like OOH-AHH" and 2016 breakthrough single "CHEER UP," which went on to top multiple Korean pop charts and won 'Song of the Year' at the Melon Music Awards and Mnet Asian Music Awards. The group has been included in numerous industry lists including Variety's Youth Impact Report as the only K-pop group included in the list, Forbes Korea Power Celebrity issue in both 2019 and 2017, and Billboard's 21 Under 21 2017: Music's Next Generation issue in 18th place and as the only Asian act. In 2019, the group successfully completed their World Tour, TWICELIGHTS, which included sold-out shows in the US at The Forum in Los Angeles, the Prudential Center in Newark (where they performed in front of 11,000 fans), and a show at the Wintrust Arena in Chicago.
Last year, TWICE's album MORE & MORE made its first ranking on the Artist 100 and Billboard 200 lists. Their second 2020 album, Eyes wide open, hit the top five slot on the all-genre iTunes US Album Sales Chart and debuted at No. 8 on Billboard's World Albums chart. The album's lead track "I CAN'T STOP ME" debuted in the top 10 of the all-genre iTunes US Song Sales Chart, and they later performed the trach on The Late Show with Stephen Colbert's #PLAYATHOME digital YouTube series. The momentum continued through 2021 where they kicked off the year with a performance on TIME100 Talks followed by their first U.S. broadcast debut on The Kelly Clarkson Show and a performance on The Ellen DeGeneres Show. In June, they released their 10th mini album, Taste of Love, which debuted at No. 6 on the Billboard 200 chart, as well as the music video for the album's lead track "Alcohol-Free," which was nominated for an MTV Video Music Award for "Best K-Pop." The K-pop powerhouses followed this up with the release of their first full English-language single, "The Feels," which earned the group their first career entry on The Billboard Hot 100 (#83) and multiple top 10 placements across various charts; they also performed the single on The Tonight Show Starring Jimmy Fallon and GMA3. Most recently, TWICE released their third full-length album Formula of Love: O+T=<3, and completed their sold-out 4TH WORLD TOUR Ⅲ. In May 2022, TWICE headed back to Los Angeles to play two sold-out 4TH WORLD TOUR Ⅲencore performances, becoming the first female K-Pop group to perform a North American stadium.