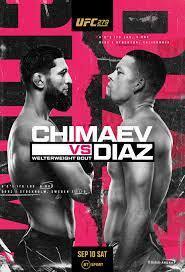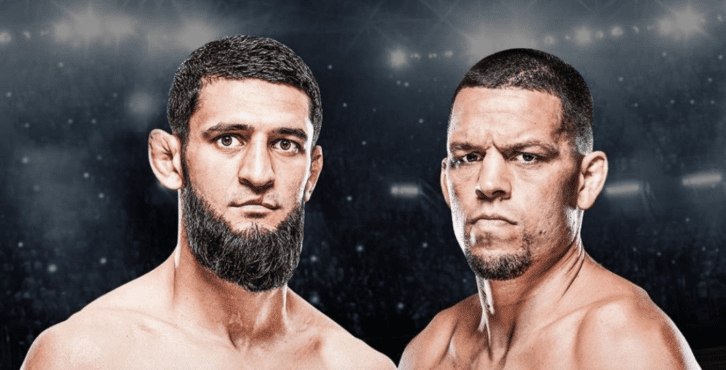 Nate Diaz vs. Khazmat Chimaev: David Vs. Goliath
According to bookies and most fight fans, the main event of UFC 279 will occur at the sacrificial altar of the just bleed god, and we will witness a horrific bloodbath, the kind of which we have never seen. According to most, this is not a mismatch but a middle finger to Nate Diaz, a popular superstar who is on the way out. The big bad wolf will try and beat him to a bloody pulp as a parting gift, and Dana White will go on and continue to say how Diaz is a washed-up has-been. Diaz was beaten out of the UFC. I think people are sleeping on Nate. I think this fight's going to be very competitive, but really, after all, this time, after 15 years of watching this dude punch, kick and strangle his way to numerous underdog victories inside the octagon. Are we really going to act like Diaz cannot pull off the upset on September 10th? Admittedly, Diaz is much older and hasn't been the same since his last couple of losses. It's an exciting fight, and I think people are writing him off too early. The grit and durability of Nate Diaz is legendary, and at UFC 279, it will be put to the final test against the phenom by the name of Khamzat Chimaev. This one fight will carry the show at the T-Mobile Arena and for that reason this fight deserves every last bit of our attention.
Nate Diaz – Grizzled UFC Veteran
Welcome to the fighting business. We are weeks away from UFC 279. Now there is a big fight feel going around the MMA world. Nate Diaz is heading into war inside the octagon for what seems like the last time, and his opponent is an undefeated prospect with a lot to prove and a lot more to lose.
If this is as bad of a matchup as some people claim, then so be it, let's get it on. Diaz has been brawling in the octagon since 2007. He was the winner of TUF Season 5, and whether you like him or not, you have to appreciate what he has done for us over the years. One fight of the night after another, one sound bite after the next, Diaz has left his mark on the history books of the UFC as a consistent entertainer. Win or lose, Diaz puts on a show, and in recent years a lot of people have come to appreciate his style and swagger.

It's hard just completely to count out Nate; you just can't after such a long journey; you'd think Diaz would get a heroe's send-off and a huge bag of money, as well as an easy fight and a pat on the back from Dana for a career well done. But no, he is getting tossed to Khamzat Chimaev as a sacrificial lamb. That's the general consensus, at least.
Khamzat Chimaev – UFC Fighter in his Prime
Let's analyze the matchup. Khamzat Chimaev is 28 years old. The guy is in his physical prime, and he has momentum on his side. He is skilled in all facets. He has the intangibles. He's a freaking beast. It's not an act, he's a freaking monster. He is powerful and fast as demonstrated by his last fight. Chimaev also has an appetite for destruction. He is constantly looking to finish his opponents. All of that together makes Chimaev an extremely lethal fighter; however, there is a small chink in his armor. His cardio is decent, especially considering how ferocious he is, but from what we have seen so far, it isn't elite, at least not on Nate's level. The Gilbert Burns fight is one example of this. Chimaev started the fight on fire and brought it to Burns, but as the contest went on, he was visibly gassed.
Diaz's Chance: Cardio
I know he won, but ask yourself this: if that fight was five rounds, who would have won? It was a good fight. It was a very, very good fight. Some people even thought that Gilbert won. The second example occurred outside the UFC, and not too many people know about this, but in 2021 Khamzat wrestled UFC middleweight Jack Hermansen in Sweden, and while he emerged victorious on points, there was a noticeable decline in his performance after the first couple of minutes. Simply put Khamzat is a chaotic bowl of ferocity early on, but if his opponent stays in there, he will gas out and slow down.
Meanwhile, Diaz is 37 years old, and he has likely passed this prime. He is smaller than Chimaev, less powerful, and is a slow starter, but Diaz has the chin, grit, and cordial to outlast most people, especially when his opponent is not as well-conditioned as him. We saw it early on against Curt Pellegrino in 2008. Diaz had a rough first round, but he came back and drowned his opponent in his most high-profile fight. Diaz mounted a comeback against an exhausted McGregor and strangled him in the second round. Hell, even at UFC 244 Diaz was starting to look decent against Masvidal in the later rounds until the ringside doctors intervened due to the cut on his eye.

Once Diaz sees Chimaev slowing down, he will come alive from whatever beating he sustained, and he will go right after Khamzat. It doesn't matter how strong and skilled you are in that situation. A dozen punches per minute is going to frazzle anybody into exhaustion. Every arm punch from Diaz will feel like a concussion.
UFC 279 Fight Prediction
I could see Nate putting him away in round 4 or 5 because Khamzat doesn't have the gas tank to go into the later rounds. He is less experienced in later rounds as well, and he will end up wasting his energy when he gets caught up in the moment. Nate is a more intelligent fighter. You know Nate's gonna conserve all that energy and get in his face when it counts. Fighters with less than stellar cardio have emerged victorious against Nate's by being efficient with their energy and mixing in leg kicks, but I doubt Chimaev will fight safe, especially on a stage as big as UFC 279. His entire persona is about brutalizing people, and if he fights any differently, especially against a 37-year-old, perennial lightweight, his reputation will definitely take a hit. Khamzat is facing more pressure than you might realize. There's a lot on his shoulders for a young prospect. With only four fights in with the UFC, he doesn't have any breathing space to let Diaz win. He must make this look easy, and that is extreme pressure. Can you imagine if a bloody Diaz slaps him across the face and laughs at him? You guys better believe it that his aura will suffer if Khamzat plays defense for the majority of the fight? For someone who claims he can smash anyone in his division, that would be a massive blow to his persona.
Khamzat and Dana Under Pressure
People often overlook this, but Diaz has a habit of making people look bad in victory, and that is the last thing that Chimaev needs. That's the thing about Nate Diaz, he's got a tremendous amount of heart. We know he's got great jiujitsu, good cardio, and all the rest of it, and he's got an attitude that people certainly resonate towards. The UFC is clearly pushing Khamzat for a mega fight with Usman, but if he's not perfect, all the way through against Diaz, that lucrative championship fight will lose a lot of its luster. That's added pressure and we'll just have to see if Khamzat can handle it.
Finally, let's ponder the aftermath of the fight. We know Khamzat will fight for the title if he wins, but what if Diaz pulls off the victory and drops another iconic zinger post-fight interview? I wouldn't be surprised if Dana White has insomnia for the next week because that is the worst-case scenario for the UFC. Diaz accomplished a similar feat when he defeated McGregor. But this time he is on his way out of the UFC, and for the company's credibility, Dana White wouldn't need to keep him around.
However, with a victory, Diaz has all the hype and leverage on his side, and you know he will demand an outrageous sum of money, maybe even the permission to box Jake Paul or some other boxer whenever he wishes. He said recently that the only people who interested him (for a fight) are Francis Nganno and Israel Adesanya. You saw Dana's reaction when he said that, right?
Nate Diaz is not the best athlete, and he is far from being the most skilled fighter ever, but there is not an ounce of quit or fear in this guy, no matter who he is up against. He's a tough fighter that keeps on walking forward. On the other hand, Chimaev is the one guy who, on paper, is capable of utterly crushing the legend of Nate Diaz. This is the immovable force versus the unstoppable object, and you know you are in for one hell of a ride.

Daily Contributor is a collective of writers that love entertainment, video games, sports, and nerding out.