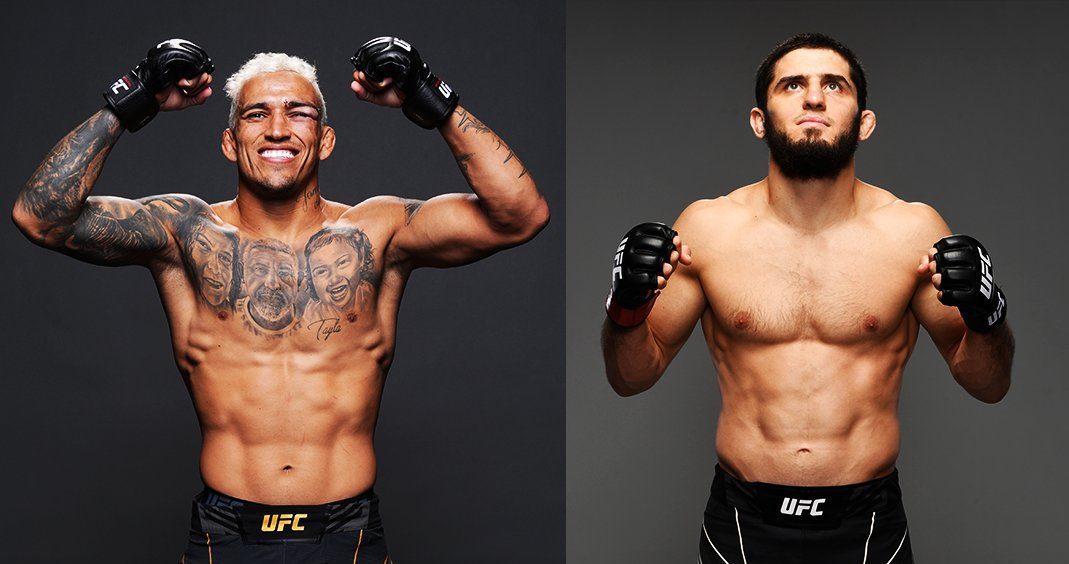 Islam Makhachev is going to slaughter Charles Oliveira, and more specifically, Islam is going to choke Charles Olivera unconscious. I can't wait to watch this UFC 280 title fight.
Let's first break down this matchup. This UFC 280 matchup is a grappling fan's wet dream. 
Starting with Charles Oliveira, the lightweight champ, he has 33 wins 9 kos, 21 submissions, and 3 decisions. 
He also has nine losses: four kos, three submissions, and one decision, so the submission king has been submitted before. He's 5'10" with a 74-inch reach and there's a reason that he's the lightweight champion of the work.
He's the best lightweight in the world right now, and he is also on an outstanding 11-fight win streak, most notably against Justin Gaethje, Dustin Poirier, Michael Chandler, and Tony Ferguson. He also has elite striking and technique. He throws elbows, has crazy jumping front kicks that set up body lock takedowns, he has outstanding calf kicks and spinning wheel kicks. His knees in the clinch are devastating.
He forces the worst fight out of his opponents and gets his opponents to swing wildly and gas out quickly.  Charle's cardio is on point, and cardio is an aspect of this fight that will be very important. This is a big reason why Charles Oliveira will get submitted by Islam Makhachev. Let's talk a little bit about Islam's fight history.
Islam Makhachev has 22 wins, 4 KOs, 10 submissions, and 8 decisions.
He has a crazy amount of submissions that no one talks about. He also has one loss on his record. He got clipped by a beautiful hook that knocked him out. He's 5 10, with a 70-inch reach, which means Charles Oliveira has a four-inch reach advantage on him.
He has god-like wrestling and grappling. He comes from the Khabib/Dagestan grappling country, and he also is a legit kickboxer. Islam rarely gets hit. He has not absorbed many significant strikes in his fight career. However, the reason why he's so good is because of his grappling. He has excellent timing on his single legs. He has excellent timing on his double leg blasts, and he has ridiculous trips within the clinch. He can hip toss his opponents -, he can do literally whatever he wants to his rival. One weakness is his ground and pound is not elite. However, he can still finish you on the ground.
Why is Charles Oliveira going to get submitted and slaughtered in this fight? Did anyone watch the Olivera/Lee fight? To remind everyone, Kevin Lee was taking Oliveira down at will. Kevin is a good grappler, but Islam is a GREAT grappler. See where I'm going with this? In the Charles/Kevin fight, Kevin was winning most rounds. Olivera was already looking gassed in the 2nd round and Michael Bisping also addressed Oliveira's slow start in the 2nd round. 
Islam's cardio is next-level. This is the difference in this matchup. Khabib was known to have amazing cardio, and Islam is the same.
He was able to shoot on guys a thousand times until he was able to take them down and submit them and just smother them and smash them.
This guy's going to own Charles Oliveira in the grappling department. Islam is going to keep shooting until he takes down Oliveira. He's going to keep Charles on the ground and gas him out and do this as long as it takes to win. 
I don't think Olivera's jiujitsu is going to be effective at all against Islam. In the first couple of rounds at most, he's going to throw out arm bars and triangles off his back, but eventually, he's going to gas out, and being on your back while gassed is dangerous. He's going to be stuck in the half-guard position where he's going to be fully controlled by Islam.
UFC 280 Fight Prediction
Islam Makhachev wins by submission in round 4.
I think it will exhaust Charles Oliveira – and Islam will set up Charles Oliveira with strikes to make him vulnerable. I think Charles might even give up his back, leading to Islam securing the rear naked choke and choking Charles Oliveira unconscious.
What are your thoughts on this UFC 280 match-up? Do you disagree with my prediction? Leave your comments below.

Daily Contributor is a collective of writers that love entertainment, video games, sports, and nerding out.