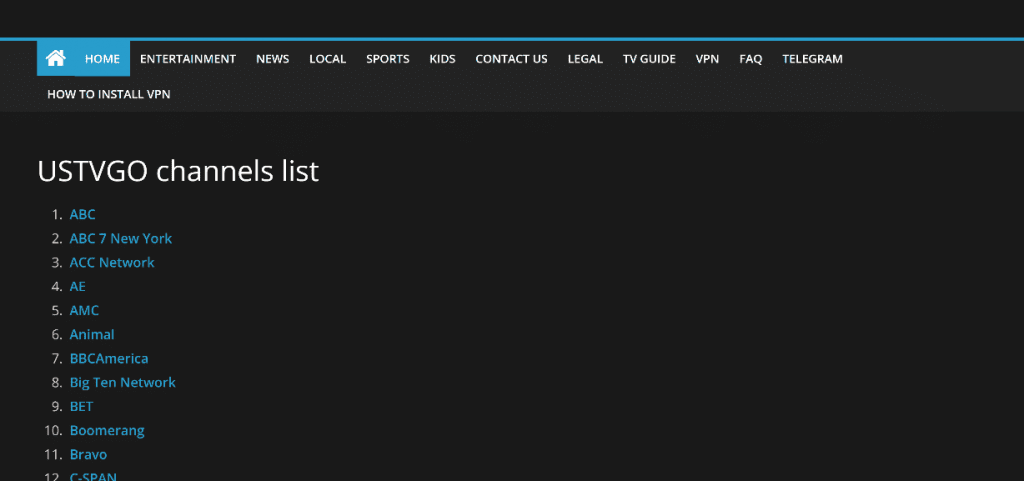 Ustvgo is a website that offers and hosts streaming of over 80 popular TV channels. As of 2022, here is the list of channels currently offered by USTVGO. The registrar is Sarek Sarek Oy, and the domain was created on 6-03-2019. The domain is hosted in India (Host Palace Web Solutions) with an IP address of 103.194.169.17. The domain is hosted on a dedicated server. The owner's information has been redacted for privacy, which is likely due to copyright infringement issues for broadcasting major TV networks.
USTVGO Channels
ABC
ABC 7 New York
ACC Network
AE
AMC
Animal
BBCAmerica
Big Ten Network
BET
Boomerang
Bravo
C-SPAN
CBS
CBS 2 New York
CBS Sports Network
Cinemax
CMT
Cartoon Network
CNBC
CNN
Comedy
CW
CW 11 New York
Destination America
Discovery
Disney
DisneyJr
DisneyXD
Do it yourself ( DIY )
E!
ESPN
ESPN2
ESPNU
ESPNews
FoodNetwork
FOX
FOX 5 New York
FoxBusiness
FoxNews
Freeform
Fox Sports 1 (FS1)
Fox Sports 2 (FS2)
FX
FX Movie Channel
FXX
Golf Channel
Game Show Network
Hallmark Channel
HBO
HGTV
History
HLN
Hallmark Movies & Mysteries
Investigation Discovery
ION (WPXN) New York
Lifetime
Lifetime Movie Network
MLB Network
Motor Trend
MSNBC
MTV
National Geographic
Nat Geo Wild
NBA TV
NBC
NBC 4 New York
NBC Sports ( NBCSN )
NFL Network
NFL RedZone
Nickelodeon
Nicktoons
One America News Network
Oprah Winfrey Network (OWN)
Olympic Channel
Oxygen
Paramount
PBS
POP
Reelz Channel
Science
SEC Network
Showtime
StarZ
SundanceTV
SYFY
TBS
Turner Classic Movies (TCM)
Telemundo
Tennis Channel
TeenNick
TLC
TNT
Travel Channel
truTV
TV Land
The Weather Channel
Univision
USA Network
VH1
We TV
WWE Network
YES Network
USTVGO Price – Is it Free?
Technically, the site streams all of its channels for free. However, they do require that you use a US-based VPN to stream. If you do not use a VPN, then the stream won't work. All you will see is a black screen. 
Is USTVGO Legit?
It seems like most channels work. We haphazardly checked channels and ABC, NBC, Showtime, and NFL Network all worked and loaded quickly. ESPN did not work, unfortunately.
Is USTVGO Legal to Watch?
As a viewer, it's legal to watch. Do not download any of the shows because that is illegal. However, viewing shows is fine.
Do You Need to Use NORD VPN?
No. We tried Express VPN from a Los Angeles based IP and were able to stream Showtime without any lag.
Are there any free VPN's that work?
According to a Reddit user, they tried Proton VPN, which worked.
USTVGO Layout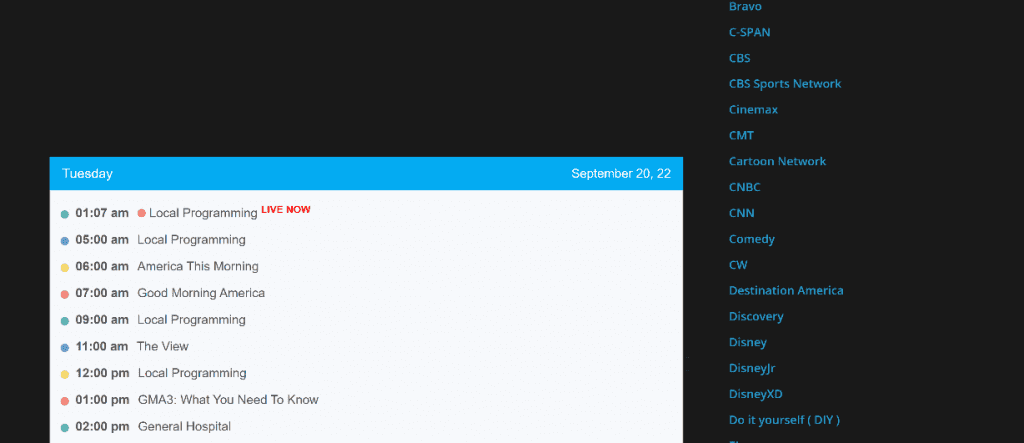 The layout is fairly simple. The homepage lists all the channels they offer with simple navigation at the top of the page. Each page has a streaming window and a programming schedule for that particular channel. Since it's an actual live broadcast, you will have to sit through commercials.
How to Use USTVGO
Fire up your VPN of choice, any VPN works, and then click on the channel that you want to watch. If your VPN is working correctly, the stream should start automatically.
USTVGO App – How is it?
The app is okay, but there are too many annoying pop-up ads. I prefer to go directly to the website where you might find an occasional ad unless full-screen mode is engaged, in which case no advertisements will pop-up. Personally, I'd rather just use the website and watch shows off my computer. It's too inconvenient to watch on my phone.
One of the reasons I downloaded this program was because it had ESPN and Tennis Channel in its selection–I'm always looking for new ways to keep myself entertained, but unfortunately those two channels aren't available here (or anything close). Although there are many other fantastic options like Hallmark Movies & Mysteries TLC CNN ABC CBS NBC. It would be better if all channels were available and not blocked just because I didn't purchase the VPN.
Are there any alternatives to USTVGO?
Here's a few alternatives to USTVGO (No VPN needed)
123TVNow is a streaming site that allows users to watch US TV shows as soon at they come out. The first thing you'll see when loading the website, are all of your favorite programming from across America – live and in HD! You can also search for specific genres like dramas or comedies without having an extensive list on hand; just type "drama" into Google Search bar then click through until found what show fits best within these parameters (for example:Boardwalk Empire).
Yupp TV is a live streaming service that offers over 250+ channels in 14 languages. It has 25000 hours of content, and more content is added daily. With this amazing offer, you'll be able to watch everything from trending shows – House of Dragons, anyone?


Daily Contributor is a collective of writers that love entertainment, video games, sports, and nerding out.