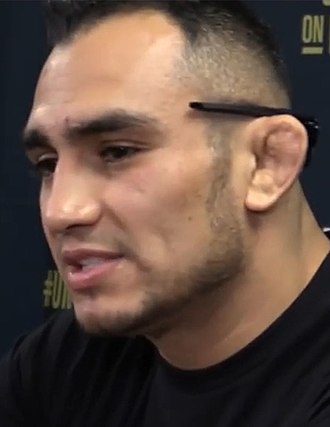 We're going to give a quick breakdown for the UFC 279: Li Jingliang versus Tony Ferguson fight. This matchup was kind of a shocker to me because I was expecting Tony to fight Dan Hooker, and I feel like that was a way better fight for Tony. Regardless, here we are with a fight between Jingliang and Ferguson. Tony is no stranger to the welterweight division. He's performed very well at welterweight; his power transfers nicely at welterweight, but let's get into the matchup.
Li Jingliang Fight Profile
Let's start with Li Jingliang. Li is 34 years old, 6'0 tall, and has a 72-inch reach. His mixed martial arts record is 19 wins, 7 losses, with 10 wins via knockout and 4 wins via submission.
Li has a Sanda fighting background, and he is a black belt in BJJ. Sanda is Chinese kickboxing formerly known as San Xiao which involves striking and throws. Speaking of his attributes, he's a heavy hitter and based on his recent losses, maybe he might have a hard time against strong grapplers and wrestlers. His two recent losses were Neil Magny and Khamzat Chimaev. Li likes to sit in the pocket and trade very grounded base while striking. He plants his feet and stands his ground often this is a good thing and it's a bad thing because on one hand you're bracing yourself for incoming impact, but you also are not very mobile to avoid shots or roll with them because you're so anchored down trying to bang it out.
I have seen him fight loose, however, but often, very often, he just likes to get in there, anchor down, and trade. He seems content with marching forward and trading because he's very heavy-handed. He sits on his shots and nasty low kicks, and I find his striking very effective and damaging.
He can tear your lead leg up, compromising his opponents, and he doesn't let up on his opponent if he sees they're hurting. Li likes to roll and throw hooks and can also transition to a takedown. Suppose he's in range after ducking and rolling from an incoming shot. In that case, it's tricky because you may think a hook or overhand is coming, but when he changes levels he can switch and transition right to a takedown. He's tricky and is good at duck unders and taking your back, then dumping you on the mat. Li is physically strong, which makes it even more impressive what Khamzat did to him. Li has a great right hand and rear uppercut; he doesn't even have to set up that rear uppercut, he just throws it and I think he'll find his mark. Li is a technical brawler and he's never been knocked out which is impressive considering his willingness to bang it out.
Tony Ferguson Fight Profile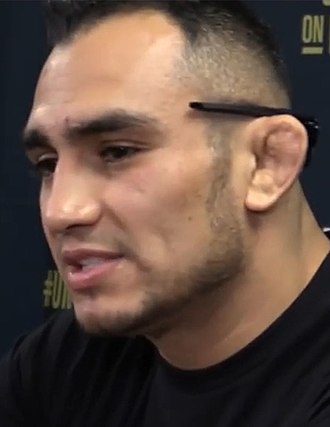 Moving on to the legend Tony Ferguson who is 38 years old right now. He's 6'0 tall with a 76.5-inch reach with an MMA record of 25 wins and 7 losses. 12 wins came from knockouts, and 8 came from submissions. His record shows just how dangerous he is.
In different facets of mixed martial arts, he's a tenth planet Brazilian Jiu Jitsu black belt, and he also has a wrestling background. Tony's style is very chaotic and constantly has his opponents guessing. As a striker, he has a plethora of techniques, and sometimes there's no rhyme or reason to Tony's striking. For example, he'll hit you from weird angles, spinning back fists, spinning elbows, low kicks, front kicks, body kicks, and knees. He reminds me a mixed martial arts Tasmanian Devil. Tony has a wrestling background, and sometimes we see that skill in fights against lower-level wrestlers. He definitely could keep the fight standing up, or he could score takedowns. But against guys a little bit more powerful who do have solid wrestling backgrounds themselves, from what I've seen, it looks like Tony gets taken down. I wouldn't say easily, but he loses that wrestling advantage when he's going up against a stronger guy and that has wrestling skills themselves. I'm not saying that tony's not skilled in wrestling, it just seems like it's not on display as much compared to his striking skill and his bjj his submission skills. Like Li, Tony Ferguson is very durable and he's never been knocked out cold up until his fight with Chandler. Being knocked out only once in his career is impressive when you look at the competition that Ferguson has faced. You got Donald Cerrone, Anthony Pettis, Charles Oliveir, Justin Gaethje – needless to say, an impressive resume of elite strikers.
Tony's cardio is always top notch and for a long time he set the bar as far as cardio and conditioning. Even today, there's a few guys that have that cardio conditioning like Tony Ferguson. He will wear you out and keep coming. Cardio is a weapon for him and with toughness through the roof, Tony's one of the toughest fighters to ever fight.
Let's talk about the reach advantage. Tony Ferguson has a reach advantage, and that's going to be useful, especially if tony fights smart. We've seen him take advantage of his long reach. He was doing that against Chandler and he was taking his time setting up and picking his shots. At welterweight Tony Ferguson has power. Obviously, he has knockout power and his resume proves it. Make no mistake about it; if he catches Jingliang, he could hurt him. I don't think Tony should go for the knockout because Li has a great chin. He just may be one of those dudes that can't be knocked out.
On the other hand, when he decides to be mobile, use head movement and pick his angles, he could be very dangerous standing up. Tony likes to brawl and exchange blow, and he's very good at slipping punches and throwing uppercuts right under your guard. He's got a great lead uppercut punch and connects at odd angles that creep around your guard.
Tony Ferguson vs Li Jingliang Fight Prediction: Tony wins by decision
Overall, I give a 170 lbs Tony an advantage in power and striking. Tony needs to be cautious about Li's low kicks in the later to unds. Tony isn't known for his defense, and Li chipping away with his low kicks could lead to Tony being less durable in rounds 3 and 4. Relying on his toughness and durability led to him getting beaten in the later rounds against Gaethje. I think Tony would actually beat him on his feet. Tony has squared off against some pretty competent strikers who are explosive. It all comes down to which Tony will show up for the fight (brawling Tony or mobile Tony).
For submission and grappling, we got to give it to Tony. If he maintains top position, Tony's going to get ground-pounded, but good thing for Tony, Li likes to bang it out on the feet and it looks like in the past, he's actually let his opponents back up. He stays standing, hovering over them, and gives them a lot of space to scramble and get back to their feet so that's a positive for Tony.
I'm gonna say Tony Ferguson wins 55 45 over Lee JingLiang. It's either going to be Tony knocking Li out or in the first round, or going the distance and winning by decision.
UFC 279 is an upcoming fight on September 10th.

Daily Contributor is a collective of writers that love entertainment, video games, sports, and nerding out.